Helfman Dodge Chrysler Jeep® RAM Fiat has All of Your Car Battery Needs Covered – And a Whole Lot More
The battery in your Chrysler sedan or RAM truck powers all of the vehicle's electrical components – lights, radio, ignition, and so on. No question about it: without a functioning battery, your car won't run. That's why it's important to visit us regularly for professional Dodge service and car battery inspection.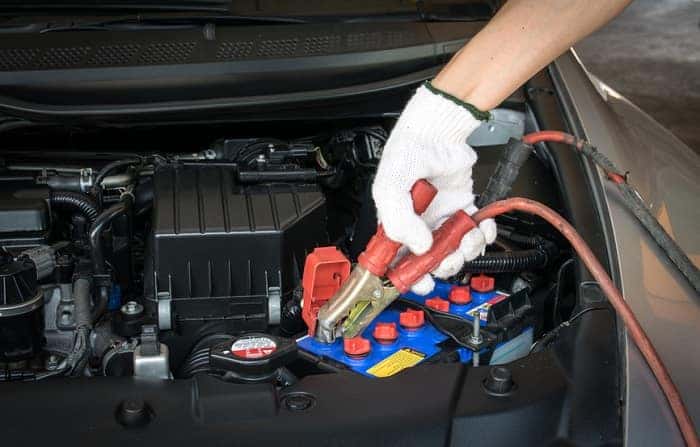 Causes of Battery Wear, and Battery Care Tips
One of the biggest causes of battery wear is climate. For example, car owners in the often warm and humid Houston area are likely to see their car's battery expire faster than in more temperate climes. This is due to increased water loss and sulfation – the formation of crystals that hinders a battery's performance.
But though you can't control the climate, you can control the overall health of your car's battery with regular service appointments at Helfman Dodge Chrysler Jeep® RAM Fiat. Our maintenance pros diligently check the battery, clean it, and confirm it has a full charge.
In addition to the services offered at our local Jeep dealership, there are a few things you can do personally to maximize battery life. For example, always turn off the exterior/interior lights and unplug any accessories before leaving the car.
Also, try to consolidate multiple short trips into one or two medium-length trips. Frequent starting/stopping of your car's engine leads to faster battery depletion.
Reasons to Service at Our Local Dodge Dealership
One big reason why car owners choose us for service is our frequent Dodge Chrysler service specials. These include discounts on important services like battery inspection, oil changes, and air filter replacements.
Another reason to work with us is for value-added conveniences such as complimentary loaner vehicles, early bird drop-off, and our Express Lane service. Moreover, any service you need can be scheduled right from your smartphone via the Mopar Owner's Companion app – which also allows you to contact roadside assistance, find special offers, and manage your car's maintenance records.
Get Professional Car Battery Service Today
By taking care of the battery in your RAM truck or Jeep SUV, you can expect a long battery life of around six to eight years. Visit our nearby Dodge showroom today for regular maintenance and battery service, as well as a big inventory of genuine Chrysler parts.