A Dodge Oil Change and Nine Additional Maintenance Services
If it's time to seek a Dodge oil change, it may be time for additional preventative maintenance for your vehicle. If you can't recall the last time you had one or more of these services performed on your car, be sure to ask about them the next time you visit our Dodge service center.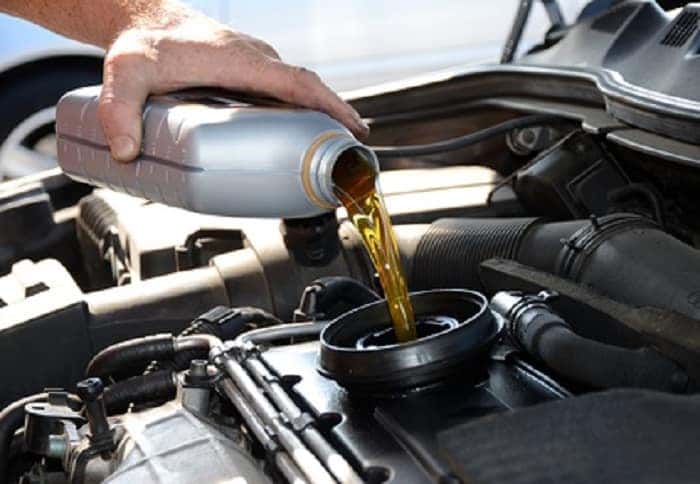 Oil Change
Your engine is the heart and soul of your vehicle and keeping its thirst for oil properly quenched ensures that it achieves optimal performance.
Oil Filter Replacement
The oil filter catches bits of grime and sludge dislodged by your oil's circuit through your engine.
Coolant Replacement
While oil keeps your engine lubricated and free of impurities, fresh coolant helps your powertrain maintain a steady temperature at different speeds.
Transmission Fluid Replacement
Transmission fluid serves the dual purpose of lubricating the machinery within your vehicle's gearbox and maintaining optimal ambient pressurization of the gears.
Wheel Alignment
Improperly aligned wheels can contribute both to a bumpier ride and also to poorer fuel economy. This quick procedure at our Dodge dealership and service center straightens your wheels to restore like-new performance and efficiency.
Tire Rotation
Your tires wear down unevenly relative to their position on your axles. Regularly rotating your tires helps them to wear evenly, promoting a longer lifespan and better performance.
Wheel Balancing
Over the course of normal usage, your wheels may become slightly warped or dented, which can negatively affect gas mileage and ride smoothness. This quick service attaches small weights to your wheel to counteract this occurrence.
Battery Test and Replacement
Not sure when the last time was that you changed your battery? Our service center can read its charge in minutes and help install a replacement if necessary.
Climate System Inspection and Recharge
A regular inspection and recharge of the air conditioning system in your new Jeep® vehicle will ensure that you're always ready for the extreme temperatures of winter or summer.
Check Engine Light
If this pesky orange light has appeared on your dashboard, bring your car to our service center and our team will be able to perform a diagnostic of your engine that can identify the issue in seconds.
Schedule Your Maintenance Service with Helfman Today
With this newfound knowledge in mind, the next step is to schedule your service appointment. Call Helfman Dodge Chrysler Jeep RAM or visit us online today!